Hypoxi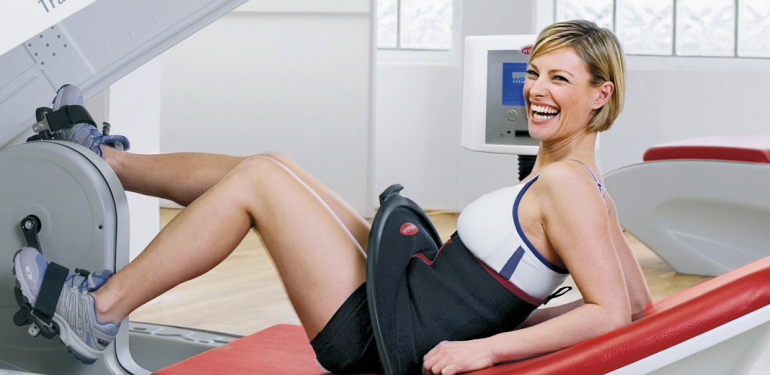 Drop a Dress Size in Four Days With Hypoxi, the World's Newest "Healthy Body-Shaping Method"
Hypoxi is a fitness and vacuum therapy applied using four types of devices and special clothes. It burns the permanent fat in your body in a short time. Research conducted by Hamburg University has determined that it is more effective at reducing body fat than traditional exercise.
The program is applied with a personalized nutrition program. The devices are used only under the supervision of authorized personnel.
Is This Program Right for You?
If you wish to burn regional fat and become thinner, rather than losing weight; if you don't have cancer, vascular occlusion, heart disease, infectious diseases or any other similar disease; if you are over 14 and under 60; if you weigh less than 115 kg; if you are not pregnant or breastfeeding; if you are not in the period of menstruation; and if you have not reached menopause very recently, this program is perfect for you.
Benefits
Facilitates the removal of fat from the body by stimulating the lymph system.
Boosts the metabolism.
For regional thinning.
Tightens the body.
Increases the muscle mass of the body.
*As it requires a health evaluation, reservation requests for the Hypoxi Program must be made via email or phone. Our expert will contact you to assess your medical eligibility and will send you the evaluation forms as soon as possible.
*Please contact guest relations for daily Hypoxi and 12-session Hypoxi program alternatives.
*Hypoxi guests will receive a 20-percent discount on any extra purchases they make at the hotel.
*Due to high demand, we recommend making an early reservation for massages and all treatments.
Information Request Form
I am delighted with the results I got from the Hypoxi program. Both our exercise instructor and the hotel personnel did everything they could to make us comfortable. I want to thank all of them.
SEMRA MUTLU
Guest
Traveling during covid times... it has its advantages! As I was almost the only guest in the hotel (I went in the middle of the total lockdown), I was treated like a queen by the staff! Everyone is really helpful, no request is asked too much. I did the hypoxi program for 4 days and another 2 days of detox. It did not feel hungry one second and lost 2 kilos in 1 week. The coach was very friendly and took me on a long walk everyday. The spa treatments are excellent price quality wise. I had massages in many many hotels and am mostly dissapointed, but not at all this time! The ladies are from Bali and they are very professional in the massage techniques aiming at healing the body. The spa menu offers a lot of choices, like eg the magnesium massage. 5 stars spa! A big big thumbs up for the complete staff of this wonderful hotel! I do wish them all the best!
MARLEEN COPPENS
Guest
The 4-day marathon ended with measurements that surprised me. I would recommend the program to everyone.
ÖZGE TAŞDELEN KUTLUALP
Purchasing Manager
I lost 2 kilograms in 4 days and thinned down an amazing 19 cm. It was worth coming up from Adana. Thank you for the relaxing and cheerful program.
MELTEM AYDIN
Partner
It would have taken a miracle for my body to get this toned, this skinny and this smooth and to lose weight on top of it all. Hypoxi actually achieved exactly that.
SABA TÜMER
Journalist and Host